Are you tired of receiving unwanted phone calls from telemarketers and spammers? You may, however, take several activities from your end. Using call blocker apps is one approach to avoid robocalls. Today's cell phones have number blocking technology, but more is needed with the number of spam calls on the rise.
Aside from this, numerous cell carriers provide comparable services, but a decent call blocking app may help you prevent unwanted calls. The market is flooded with third-party call blocker apps for Android and iOS devices, but picking the best from a sea of options may take a lot of work. Check out our post for the best Call Blocker Apps for blocking unwanted calls.
Top Call Blocker Apps For Your Smartphones
Call Blocker Apps are.
1. Whoscall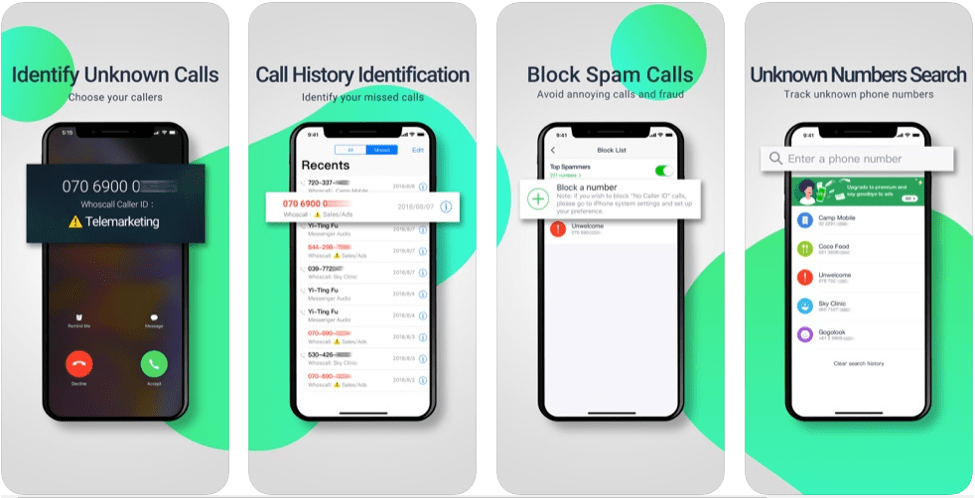 Whoscall is specifically developed to identify Caller ID & Whoscall ID and block all calls from unknown sources. It is one of the best call blocking tools available on the app store, and you have complete control over anyone you wish to block. It enjoys a large client base and significant download numbers.
2. Hiya – Spam Phone Call Blocker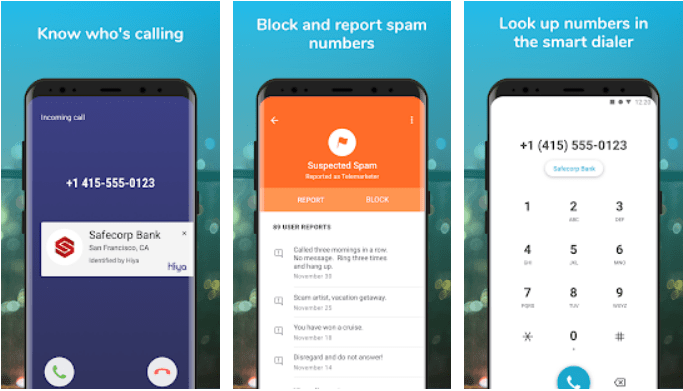 Hiya is one of the best free call blocker apps on the market today. It employs a sophisticated algorithm to identify all useful calls and indicate those you should avoid. Hiya includes many call-management options, such as caller ID, reverse phone search, and automatic call blocking. It notifies you of any spam calls and allows you to block calls from corporations, people, and unknown numbers. This is one of the best spam detection and call blocking apps, easily identifying and blocking calls from marketing firms, debt collectors, and others.
3. Truecaller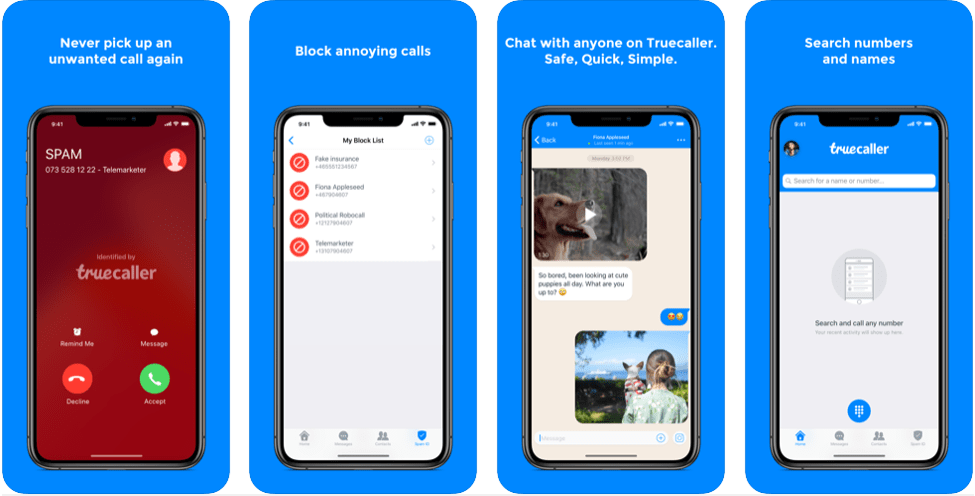 Truecaller is a fantastic tool that blocks all nuisance and spam calls on Android and iOS phones. It develops a directory of all the spam numbers that its users add. Truecaller uses a community-based call list to identify problematic numbers and automatically block them. It protects your communication by blocking unwanted phone calls from spammers and telemarketers. It may also be used to check the details of any unknown numbers. This app is free for Android and iOS users and enjoys a customer satisfaction rating of roughly 4.6/5.
4. Call Control – Call Blocker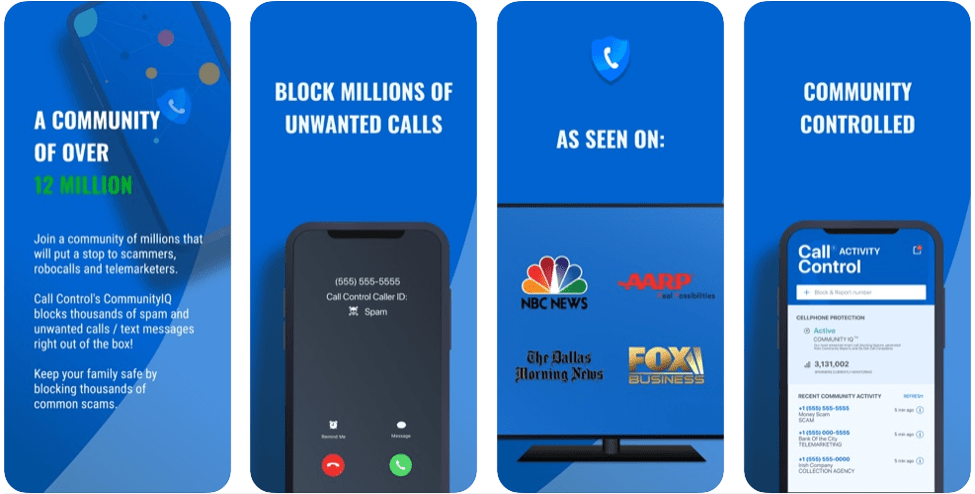 Call Control is the best call blocker, caller ID, and spam stopper app. It is well-known for its excellent working standards and enjoys a large client base of more than 12 million users and a 4.4-star rating. Download this free Best Call Blocker App for Android and iOS devices to eliminate spam calls from your business and home phones. You may also create a blocklist to prevent calls from specified numbers. Aside from that, it enables you to check the caller details of phone calls from an unknown number.
5. Nomorobo Robocall Blocking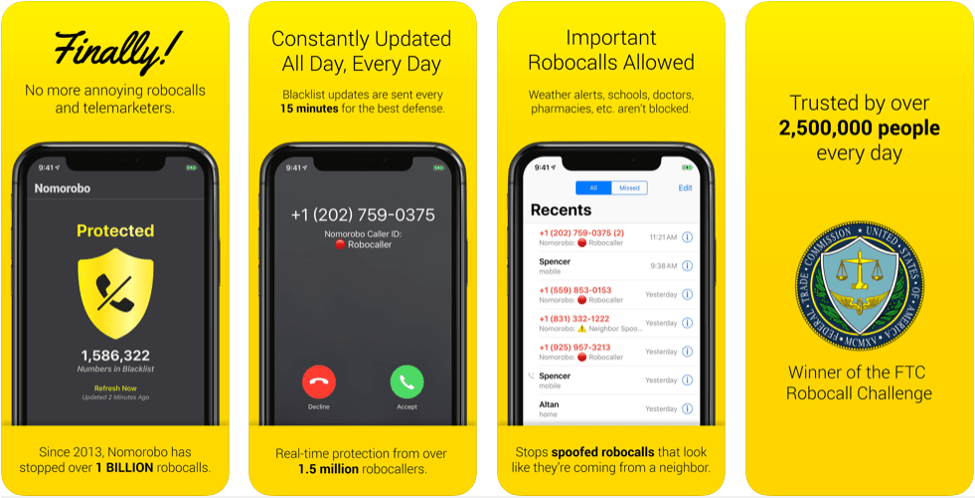 If you've been missing a calm phone experience and are tired of spam calls, use Nomorobo to restore tranquility to your phone. It is well-known for offering real-time protection against all unwanted calls from telemarketers, debt collectors, robocalls, and other similar entities. It does not, however, block any crucial robocalls, such as those from your children's schools. This wonderful app lets you easily identify and block any dubious calls.
6. Robokiller – Block Spam Calls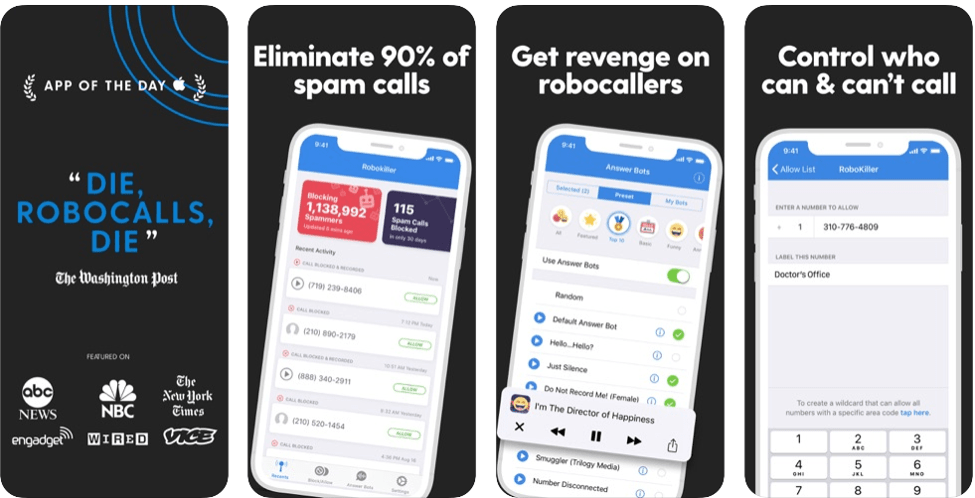 This goes further by using "digital footprints" to identify all spam calls. It even prevents such calls from appearing on your phone's screen, instead sending a message that it has blocked a call. Another appealing aspect of Robokiller is its "answer bot" capability, which allows an automated bot to answer calls on your behalf. You may also check the details of every missed and blocked call on your smartphone.
7. Trapcall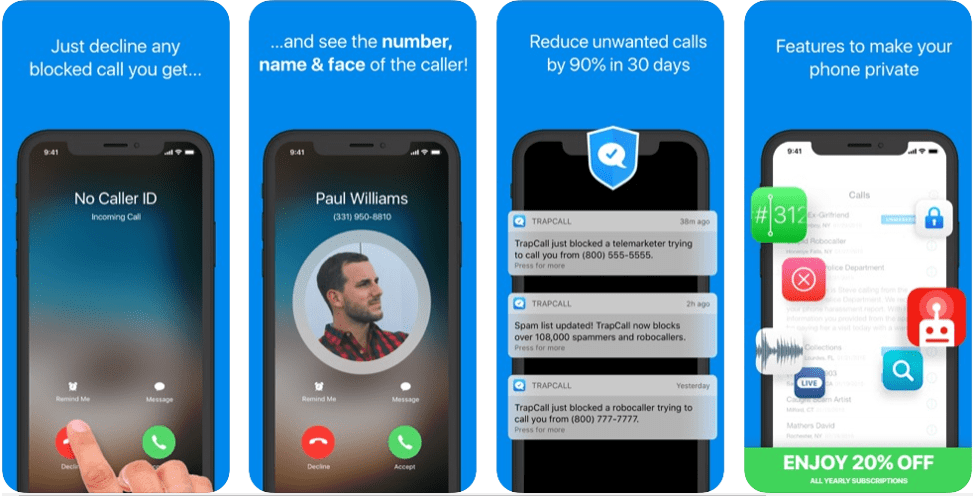 Trapcall will unmask any disguised calls. It employs an automated call market creation method to protect you from the annoyance caused by spam and telemarketing calls. Its creators also claim it can provide caller details for unknown, private, restricted, and blocked numbers. It is free to download and works flawlessly on Android and iOS devices.
8. Mr.Number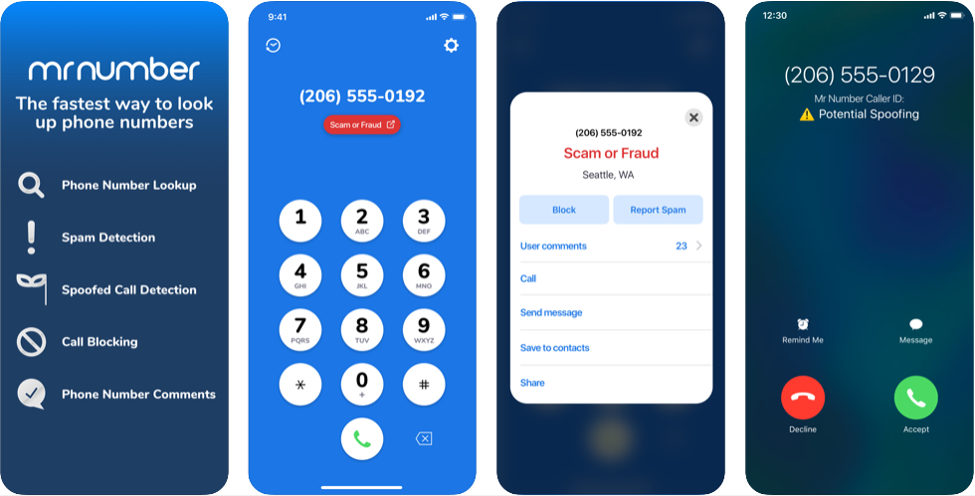 With Mr.Number, you can identify, block, and halt any fraudulent and spam calls from your phone. Aside from calls, it may also block SMS from specified numbers and area codes. You may also check the details of unknown numbers, send audio messages, or hang up on the calls. Hiya created it, and it is free.
9. YouMail Voicemail & Spam Call Blocker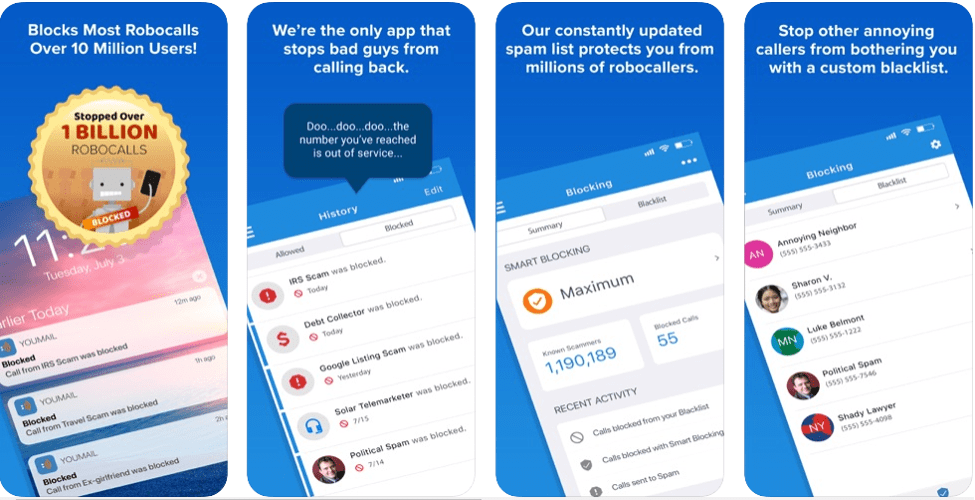 Send an "out of service" message with YouMail to block any calls from telemarketers and fraudsters. In addition to being a call blocker app, it also provides professional call handling services such as auto-reply, call-routing, message routing, and recorded greetings. It's compatible with iOS and Android devices.
10. Sync.ME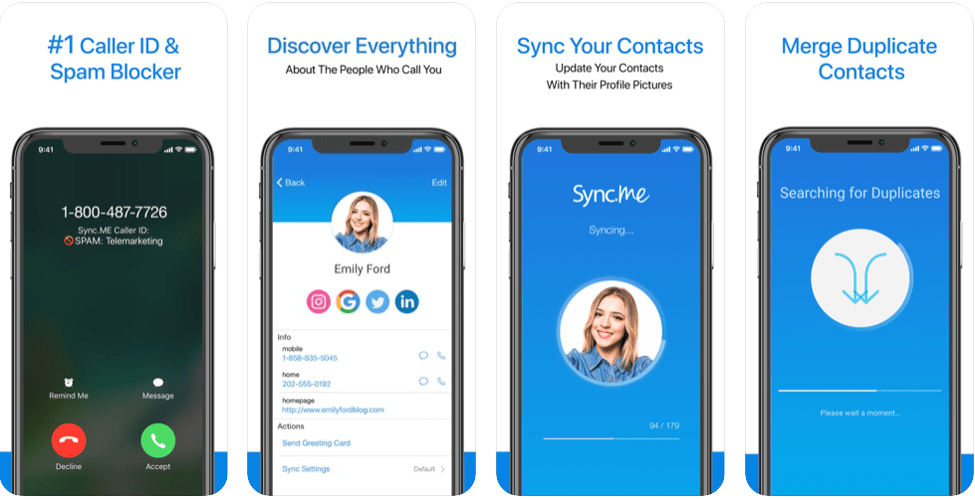 This one has superior caller ID capabilities that let you view the contact details and the caller's photo and name. It claims to contain the most comprehensive phone directory, with billions of phone numbers from around the globe. It employs an advanced matching process to identify and link the numbers with their owners' social media profiles.
11. Numbo Call Protect & Blocker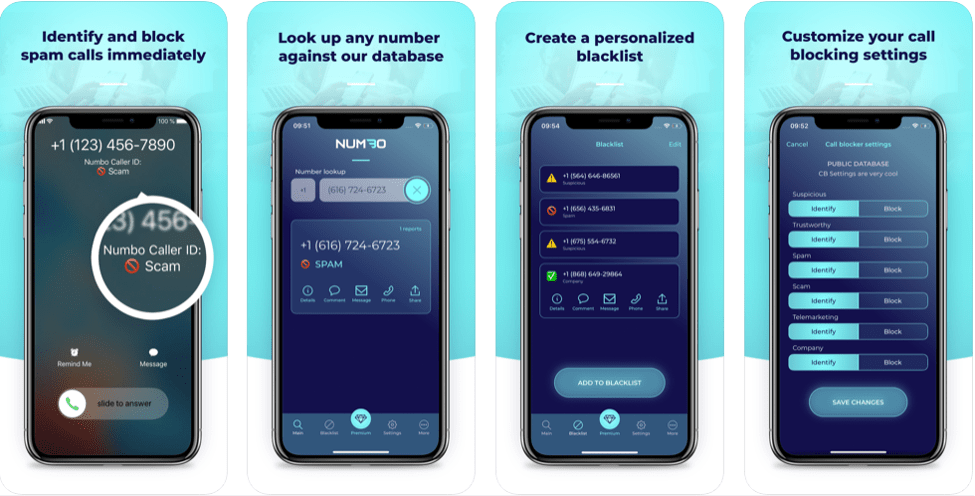 Use Numbo Call Blocker to prevent getting shocked by spam callers. Use it to find out the caller's details. It will notify you whether the incoming call is from a known number or a suspect source based on its database of banned numbers. It can also check the details of any number against its database. With this best call blocker app for iPhone, you may have a simple phone experience.
12. OctoCaller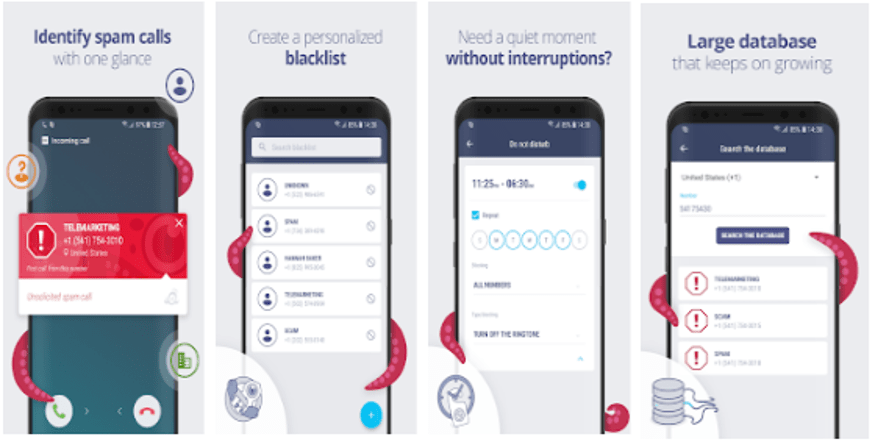 Octo Caller App, created by Master App Solutions, is one of the most popular Call Blocker Apps for blocking anonymous and unwanted calls. It has a basic and clean user interface and is free to download from the Google Play store. Choose this fantastic tool to block spam calls and create a contact blocklist.
13. AT&T Call Protect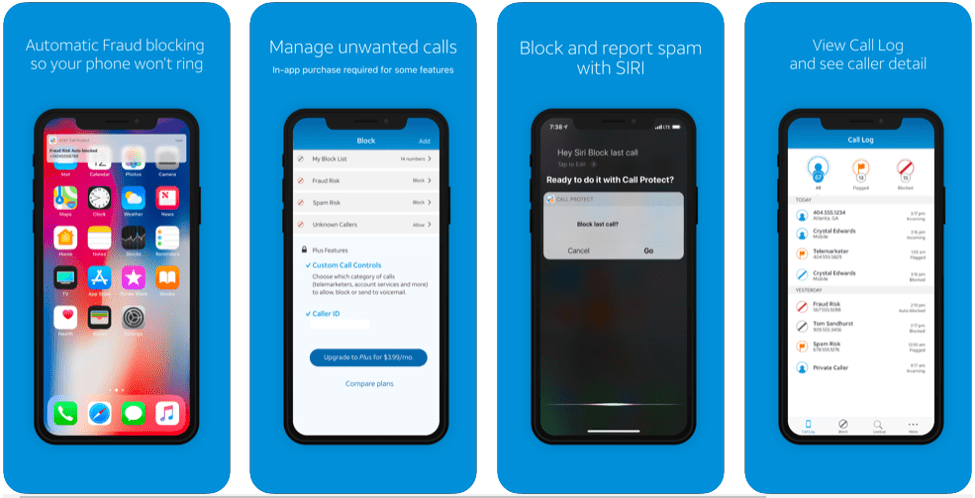 Before you answer any call, check who is calling you with AT&T call protection. The app notifies you of suspicious calls and allows you to block them. It's compatible with iOS and Android devices. Check callers' details and create a personalized block list of all unwanted numbers.
Also, Take A Look At:
Conclusion:
So that's all. These are some of the best Call Blocker Apps for Android and iOS devices for blocking unwanted calls. Make your choice and protect yourself from potentially hazardous spam calls.