Do you know which cryptocurrency apps are the best for Android and iOS? Despite being a virtual currency, cryptocurrency is gaining traction in the world of financial investments as a result of digitization. And, these days, anything offered on the web platform can only stay away from the Android and iOS platforms for a short time, right? Whether you are interested in traditional stock market trading or cryptocurrencies, the market is flooded with trading solution apps. This article will look at the most popular cryptocurrency trading apps and wallets to help you deal with this blockchain-based technology more easily.
Top Cryptocurrency Apps For Android And iOS
Cryptocurrency Apps for Android and iOS are.
1. Cryptonator Cryptocurrency Wallet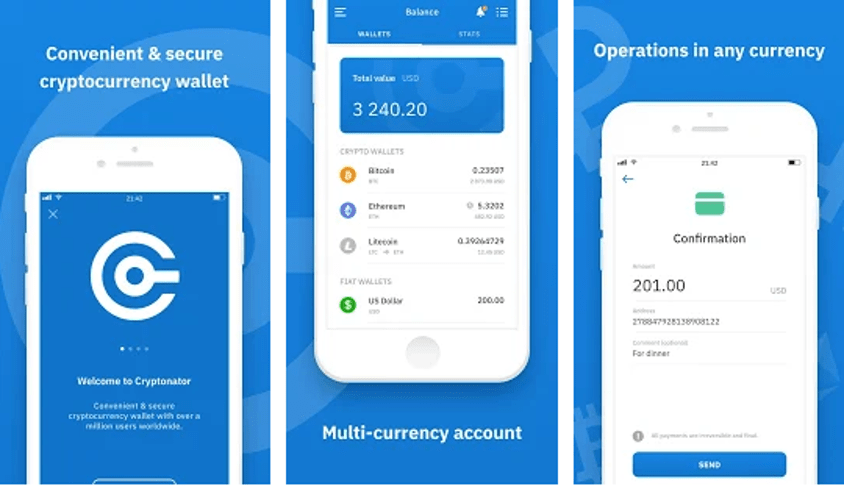 This all-in-one cryptocurrency wallet supports several cryptocurrencies and is available around the clock on PCs and mobile devices.
Features
This app supports multi-currency accounts.
With this app, you may instantly swap currencies.
2. Blockfolio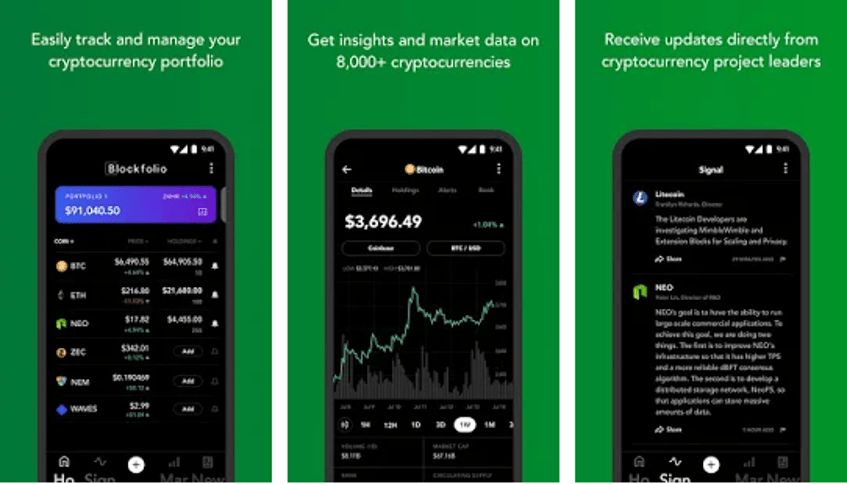 This famous cryptocurrency trading app supports over 8000 main cryptocurrencies such as Bitcoin, Litecoin, Ethereum Classic, Cardano, and others.
Features
This app tracks your cryptocurrency portfolio of over 8000 popular cryptocurrencies.
Receive tailored signals about cryptocurrency market updates from crypto teams.
Obtain current exchange rates.
Compare prices using market analysis.
The "Hide Balances" and PIN lock features help to keep you safe and secure.
Assistance is accessible 24 hours a day, seven days a week.
3. Crypto App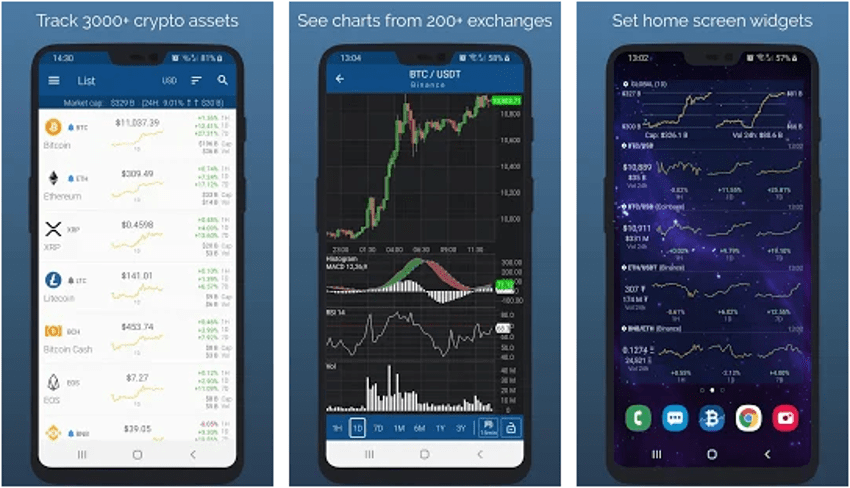 This cryptocurrency app is an excellent location to store all your crypto money. If you wish to invest in cryptocurrencies, this app is useful since it supports other cryptocurrencies and USD, BTC, EUR, and other real-time currencies.
Features
Keep an eye on cryptocurrency pricing.
Convert one cryptocurrency into other cryptocurrencies and real money.
Get personalized cryptocurrency market updates.
Keep up with the latest crypto news.
Learn about the crypto market cap by accessing the coin market cap statistics offered in a separate area.
4. CMA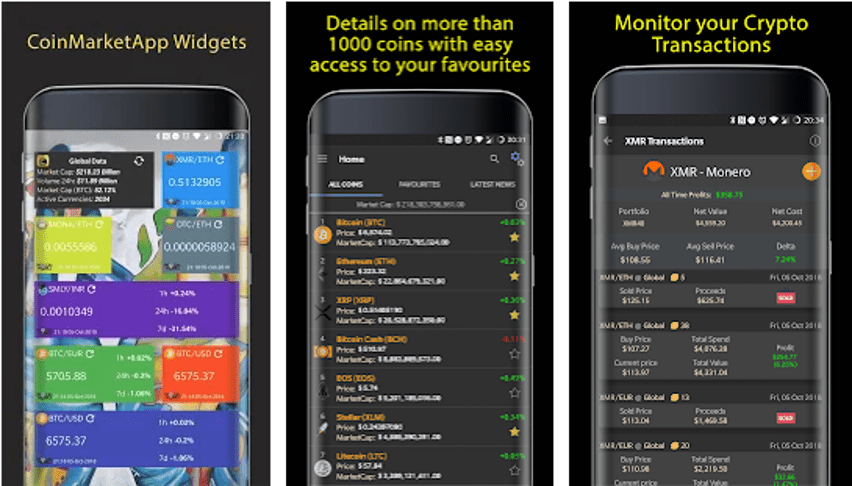 CMA, which stands for Crypto Mass Adoption, is a popular and free Android cryptocurrency app. With the snappy motto "One Crypto App to Rule Them All," this app allows access to over 1000 cryptocurrencies.
Features
It offers a unique cryptocurrency portfolio.
It helps you access data from cryptocurrency exchange marketplaces for better analysis.
Charts help you understand crypto trends.
Customized notifications are provided.
Keeps you up to speed on cryptocurrency news from Reddit, CoinTelegraph, Bitcoin.com, Yahoo Finance, and other sources.
5. Coinbase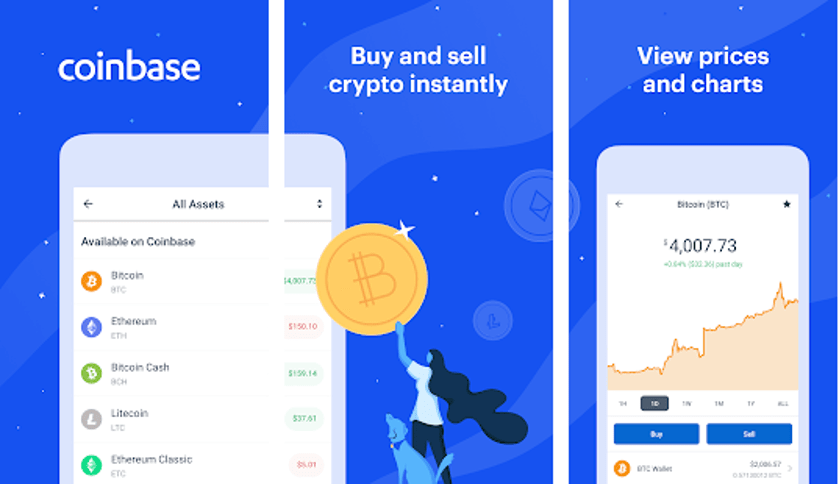 Do you want a smart app to help you manage your cryptocurrency investments? If so, check to try this cryptocurrency wallet app on your smartphone. This app, which claims to be the world's biggest cryptocurrency exchange, boasts a gigantic user base of 25 million people from 32 different countries.
Features
This is an amazing app for novices since it provides effective tools to help you understand the fundamentals of the cryptocurrency market and create your cryptocurrency portfolio.
It also helps you keep informed by sending you price alerts and information about crypto market updates.
They provide excellent security by keeping 98% of your cryptocurrency offline and the remainder with the help of internet security.
Automatic purchases are a noteworthy feature.
They also provide exceptional customer service.
It includes a very user-friendly dashboard.
6. Binance Crypto Trading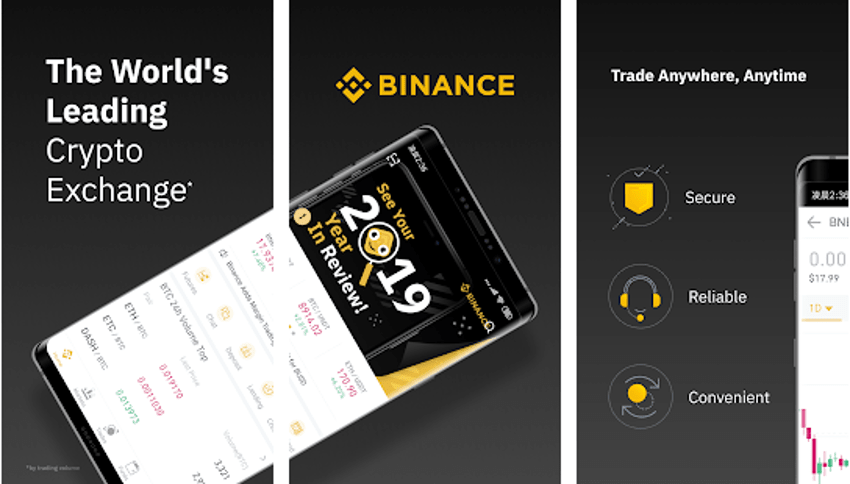 This tool is distinguished from other cryptocurrency apps because it offers crypto futures and crypto margin trading on a large scale of crypto/altcoin trading pairings such as Bitcoin, Ethereum, and others.
Features
The Binance crypto app lets you purchase and trade Bitcoin and other cryptocurrencies directly.
They provide their customers with round-the-clock assistance.
Stop worrying about your cryptocurrency assets since this app will protect them with the help of SAFU (Secure Asset Fund for Users).
7. Crypto Market Cap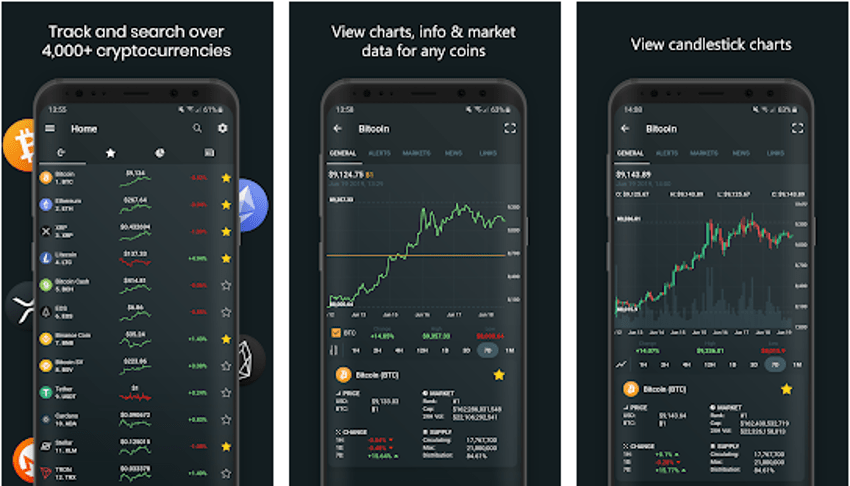 What's great about this cryptocurrency exchange app is that it's completely free to use and provides an ad-free environment for making cryptocurrency trades. It supports 50 flat currencies such as USD, EUR, RUB, and others and crypto bases such as BTC, ETH, and LTC.
Features
YOver 5000 cryptocurrencies may be tracked, including Bitcoin, Litecoin, Monero, and others.
You may examine up to 400 cryptocurrency exchanges, including Binance, Coinbase, and Kraken.
Other app features include a Watchlist to help you keep track of your coins, personalized price notifications, and news updates.
You may also access worldwide market statistics, such as total market capitalization, shares, etc.
8. Coin Market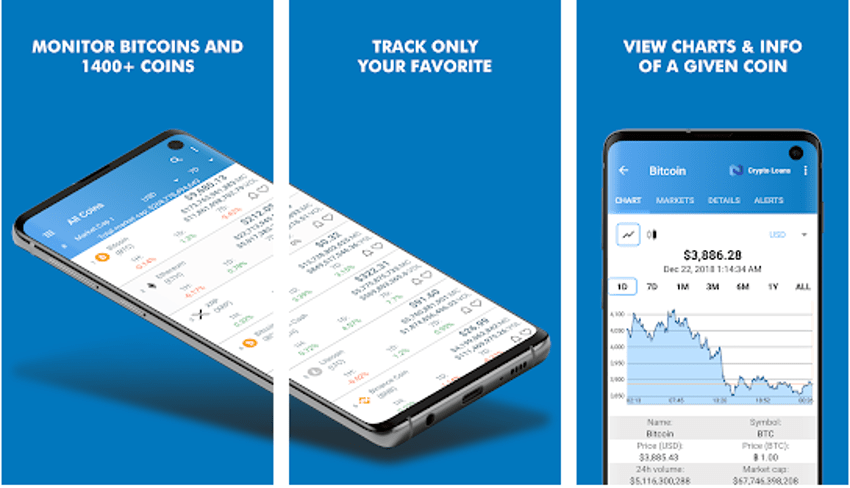 This fantastic cryptocurrency wallet lets you track crypto capitalization progress via crypto charts and live coin monitoring.
Features
With the help of Coin Market, you can examine the behavior of more than 2000 cryptocurrency rates, such as BTC, ETH, and so on.
You may greatly profit from ICO alerts and news updates.
It displays Ethereum price analysis, real-time market prices, and bitcoin pricing.
9. Blockchain Wallet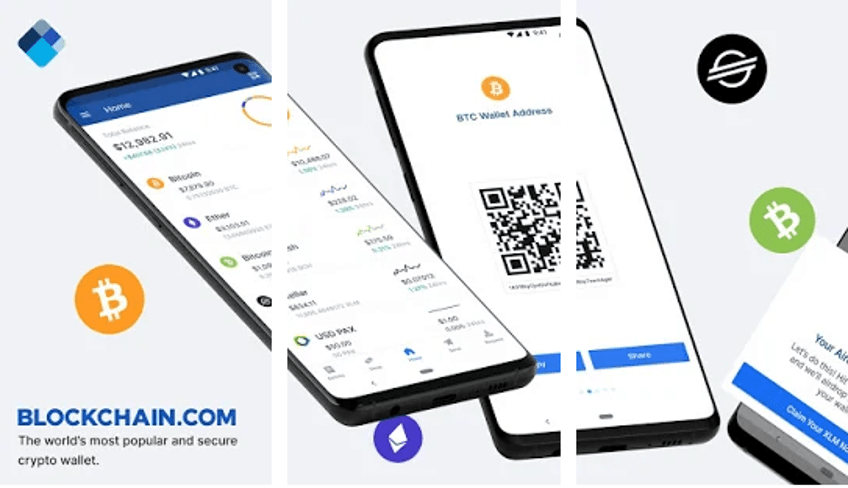 This popular cryptocurrency app is unusual because it is non-custodial, meaning you have sole power over your crypto assets.
Features
Authentication by biometrics or a 4-digit pin. Another advantage is the Two-Factor Authentication.
The worldwide wallet makes it simple to conduct cryptocurrency transactions.
10. CoinMarketCap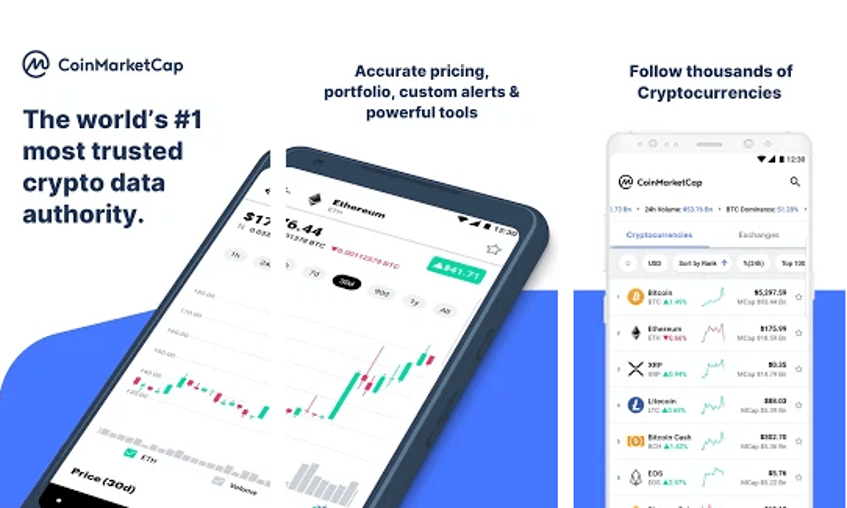 According to the app's creators, this cryptocurrency trading app is the "World's No. 1 and most-trusted cryptocurrency app in data authorization."
Features
With 16000+ crypto market monitoring capabilities, look at global crypto information to understand the price of every market.
You may quickly track your assets using candlestick charts and daily historical OHLCV data.
11. Bitcoin Wallet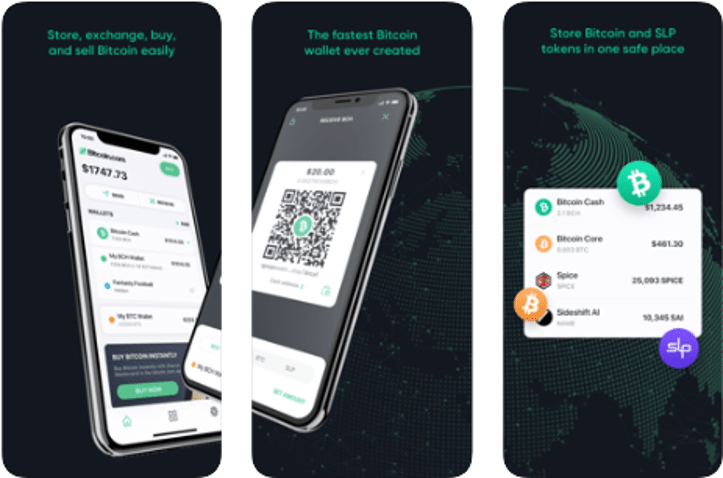 If you're still seeking better cryptocurrency apps for Android and iOS, consider this app, a Bitcoin product made by Bitcoin.com.
Features
Originally intended to be a secure haven for your Bitcoins, the most recent version has an exceptionally simple user interface for conducting lightning-fast payments.
With the help of this cryptocurrency tool, you may manage digital assets such as SLP tokens.
12. Bitcoin Price
This blockchain cryptocurrency app includes a CryptoCurrency Rate Widget and a Portfolio of Cryptocurrencies.
Features
With the help of rank, price, and capitalization, you can effortlessly sort your cryptocurrency list.
There is a favorite function that will help you keep track of your favorite coins.
13. Ethereum Wallet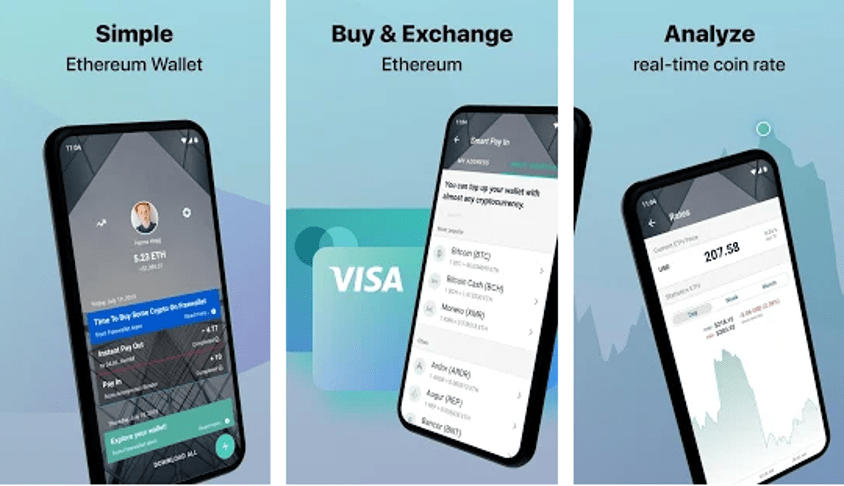 This is a fantastic app for cryptocurrency investing since it helps you securely manage your ETH money.
Features
With Fingerprint login, 2-Factor Verification, and PIN code lock, this app provides great security.
Every transaction results in an email confirmation.
Consider The Following:
The Bottom Line:
As a result of this post, you now better understand various cryptocurrency trading apps that are useful in performing your day-to-day crypto investments. This trading sector is still a developing notion, and it still exists in the form of a decentralized structure, making it popular and appealing to the general public. Today's world relies heavily on smartphones, and the "world of cryptocurrency" is no exception, with various smartphone cryptocurrency apps available for both Android and iOS.