A smartphone functions as a personal locker where we store all our private and sensitive data, personal information, videos, images, and other media. Fortunately, various fingerprint lock apps for Android can help you keep your data safe from prying eyes. With passwords, PINs, fingerprints, and even facial recognition, these apps enable you to lock your private items. In this post, we will discuss some of the best fingerprint lock apps for Android that may add additional security to your device.
Top Fingerprint Lock Apps For Android Users
Fingerprint Lock Apps For Android are.
1. AppLocker: Fingerprint, PIN, Pattern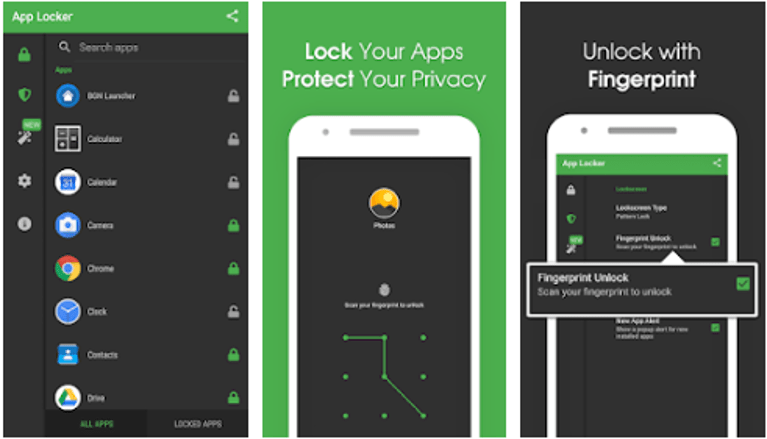 This wonderful tool from BGNmobi is one of the best fingerprint lock apps for Android. With a PIN/ Pattern or fingerprint password, use this app to safeguard your privacy. It prevents unauthorized app uninstallation, safeguards your images, and locks different apps like social networking apps and photo galleries.
2. AppLock: Fingerprint & Pin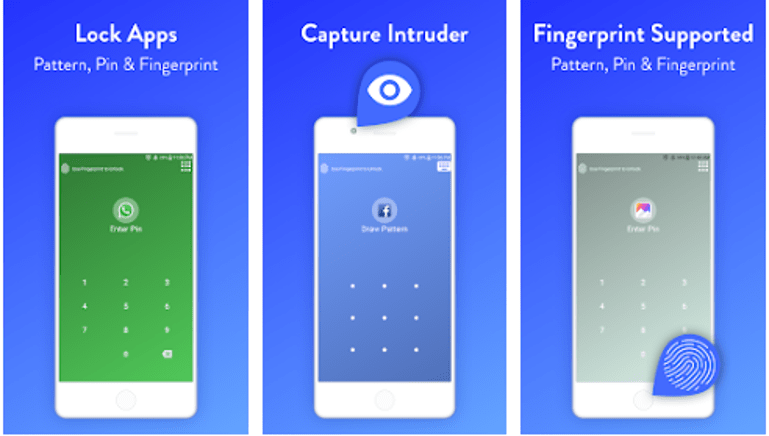 AppLock- Fingerprint & Pin is the next app on our list of the best Android finger scanning apps. It has a clean and straightforward operation. Also, it provides various device locking options, including pattern screen lock, PIN, and fingerprint lock. It enables you to lock your social apps, chat apps, and picture galleries. Furthermore, it may take images of intruders anytime they attempt to break into your device. As a bonus, the app includes two lock engines. Its simple and default version is quick, but its "Improved lock Engine" is much more sophisticated and does not drain your device's battery. Overall, if you want to secure your device, it is a decent pick.
3. LOCKit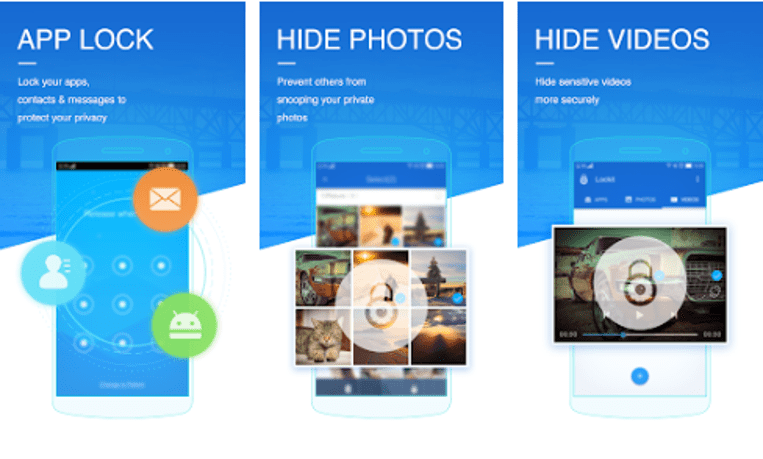 LOCKIt is the next app in our list of the best Android fingerprint scanning apps. The app has a user-friendly UI and simple techniques to secure your apps and private data. Use it to lock your phone's screen and hide your data. It also includes a file scanner, phone booster, and notification cleaner. You may use it to hide your private photos and preserve them in a separate vault. Use a PIN, pattern, or fingerprint password to prevent unwanted access. Among its major features are a power-saving mode and intruders' selfies. Furthermore, it prevents the removal of any locked apps.
4. AppLock: Fingerprint (SpSoft)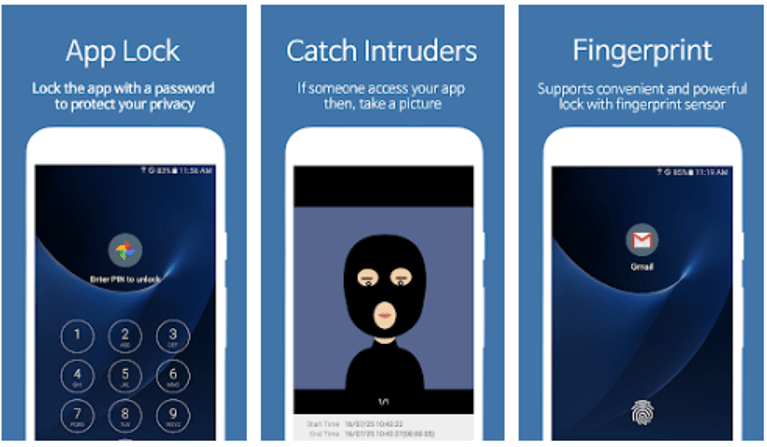 AppLock by SpSoft is the most popular fingerprint lock app. It may be used to protect your phone from prying eyes and to lock any app. It also enables you to hide private photos and videos from unwanted access. They may be locked and stored in a private vault. The app requests that you retain a lock, which is necessary each time you need to access it. In addition to a pattern lock, it lets you set a PIN password and use facial recognition to secure your apps. The app is accessible in over 30 languages.
5. Applock- Fingerprint Pro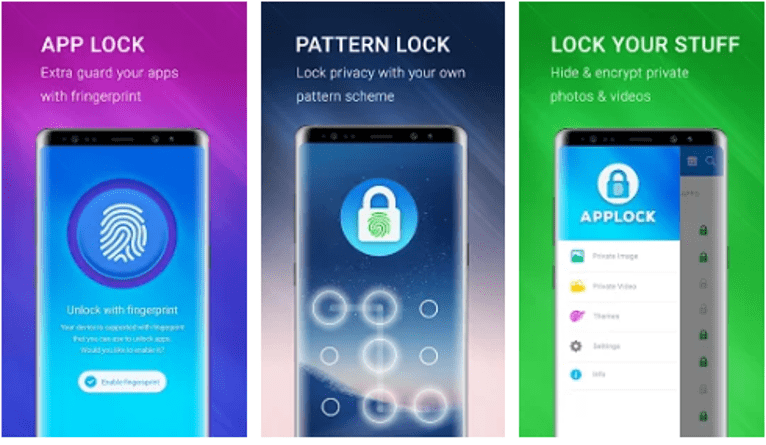 Applock- Fingerprint Pro is our top pick in this list of best free fingerprint lock apps for Android. With many essential features, it is one of the best selections. You may pick a fingerprint password, a text password, or a PIN to lock your device. You may lock private images and videos using it. It protects your belongings from snoopers and intruders by acting as a privacy guard. It may also protect your essential emails, phone records, and messages. Applock is an excellent solution to protect your picture gallery and lock several apps. To further your device's security, it also has an invisible pattern option, which suggests no one can see your pattern lock screen when unlocking it.
6. AppLock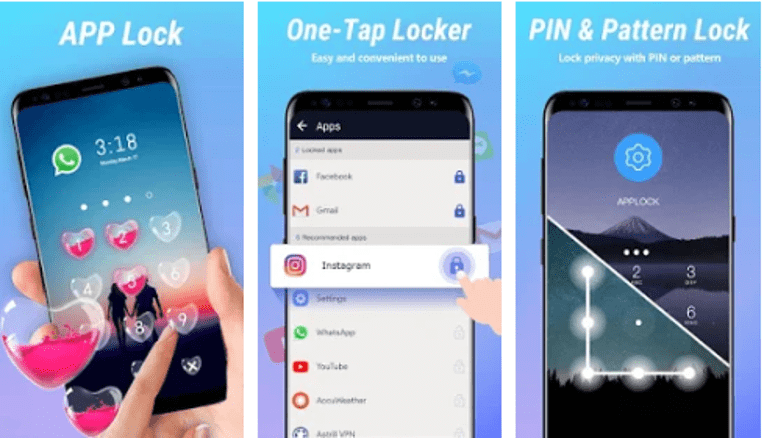 "Applock- A Privacy Guard & Security Lock" is one of the best app lock apps to consider. Use this anti-intrusion solution to protect numerous apps like Facebook, Messenger, Whatsapp, and others and lock your picture gallery. It has a pattern lock, PIN password, and fingerprint sensor to protect your privacy. The app is completely free. It also prevents unauthorized changes to your phone's settings. Choose this lightweight and strong tool to offer your smartphone 360-degree security.
7. Applock- Fingerprint Password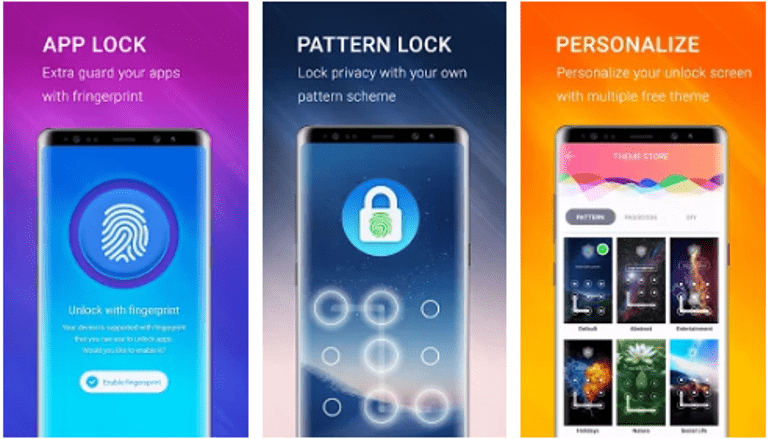 Applock- Fingerprint Password is the most stunning solution for locking apps using a fingerprint sensor. Use it to hide your photos and videos and apps like Snapchat, Photo Gallery, Messenger, Facebook, Instagram, and others. The app is entirely free. In addition to a fingerprint sensor, you may lock your Android device's apps using a pattern password or a numeric PIN.
8. AppLock: Lock Apps & Privacy Guard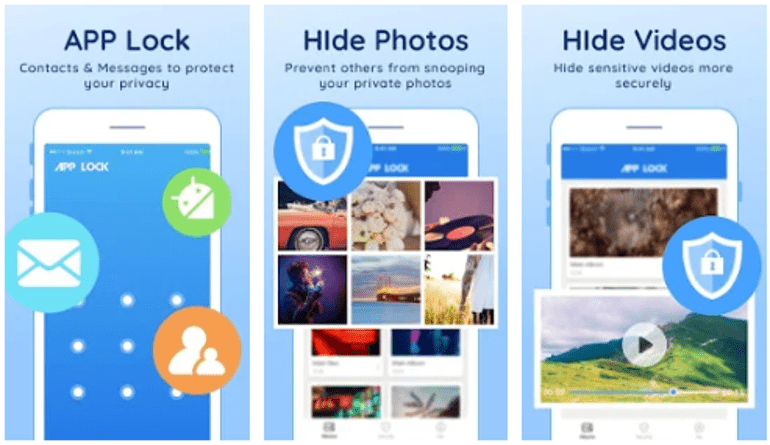 Featuring many wonderful features, "AppLock- Lock Apps & Privacy Guard" easily safeguard your apps and data. It uses various locking techniques to protect your apps, including pattern, fingerprint, PIN, disguise cover, and a face tracking lock. With this incredible tool, you can prevent app uninstallation, hide photos, and secure your apps.
9. Lock Screen Fingerprint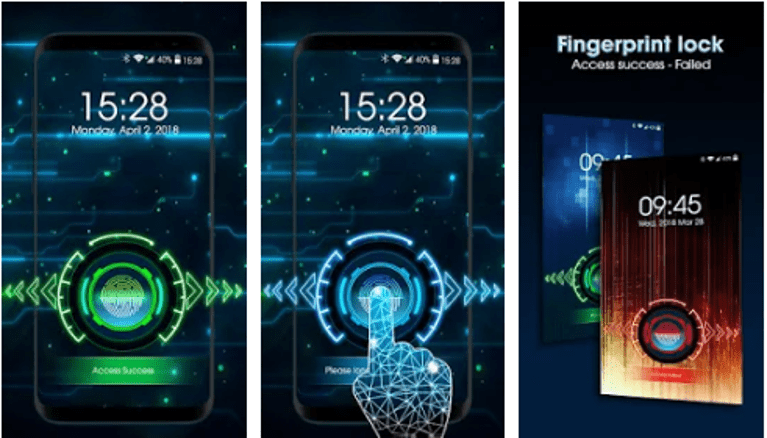 This vintage app has a lot of new features and services. It employs a fingerprint sensor to ensure your Android device's greatest security. It is available in over 60 different languages and employs excellent visuals for the fingerprint scanning process. Also, it lets you set a PIN password over your fingerprint to add more security. Choose it now to hide your private belongings in a hidden vault. The app has a gorgeous, lightweight, and easy-to-use interface.
10. Norton App Lock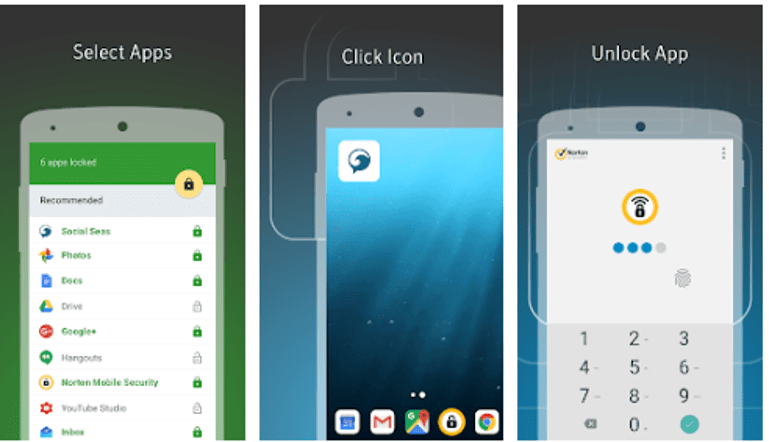 The next fingerprint lock app comes from a well-known seller of antivirus software. Choose this amazing solution to secure your apps with a PIN/Pattern password or a fingerprint sensor. It may hide images, block app removal, and safeguard your apps. Aside from that, it snaps a photo of the intruders attempting to break into your device. Overall, the app is adequate.
11. Fingerprint App Lock IN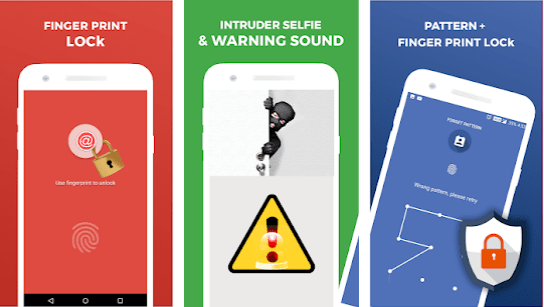 Fingerprint App Lock IN is our list's next best fingerprint lock app for Android phones. It locks your photos and videos with military-grade encryption. It may lock your contacts, emails, chat, SMS, incoming calls, and other handy apps. You may use a PIN/pattern password or fingerprint recognition to safeguard your private information. Use it to secure your photos, safeguard your privacy, and conserve phone space while allowing you to lock anything behind a lock.
Consider The Following:
Conclusion:
So, these are some of the best fingerprint lock apps for Android devices to consider. These fingerprint lock apps for Android are very dependable and completely secure to use. Choose the best security app to safeguard your private data from snoopers and unwanted access.