Privacy Apps For Android To Try: Are you seeking a privacy app that can protect your Android device and enhance your online security? Then this site will undoubtedly be of assistance to you. With our ever-increasing reliance on the internet, privacy has become a major problem. The internet world offers a convenient platform for fraudsters and data thieves, which adds to smartphone users' security concerns.
Our smartphones and laptops store emails, contacts, personal information, photos, bank details, and many other sensitive and secret data. Adequate security and privacy apps are required to guarantee appropriate privacy. Various privacy apps for Android devices may address the most common security issues and requirements. To protect your privacy, check out our pick for the Best Android Privacy Apps. Choose one to keep your secrets private from prying eyes.
Top Privacy Apps For Android To Try
Privacy Apps For Android are.
1. Find My Device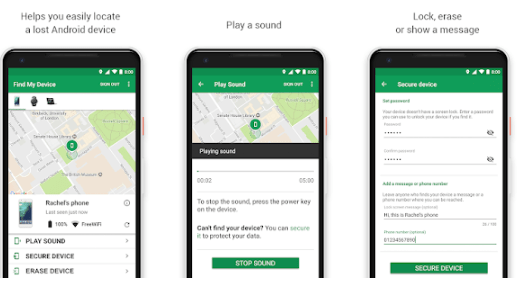 Similar to Find My iPhone, Find My Device works similarly. Google created it, and it aids in tracking and finding misplaced equipment. It also lets you leave a callback number and helps you examine its location information.
2. Express VPN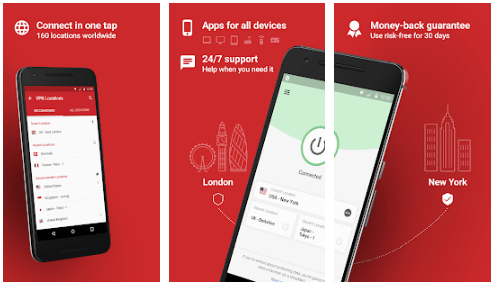 A browser that does not have a VPN connection is very insecure. A solid VPN connection encrypts your data and protects your online activity and digital prints from prying eyes. There are various options on the market, but Express VPN stands out. ExpressVPN is routinely regarded as one of the best Privacy Apps For Android due to its military-grade encryption system, vast server network, and quick speed. It conceals online actions, websites you visit, and incoming and outgoing information from spy agencies. With this fantastic tool, you may browse safely and anonymously. It also features a customer care staff available 24 hours a day, seven days a week, and a live chat assistance facility. It also includes a 7-day free trial.
3. DuckDuckGo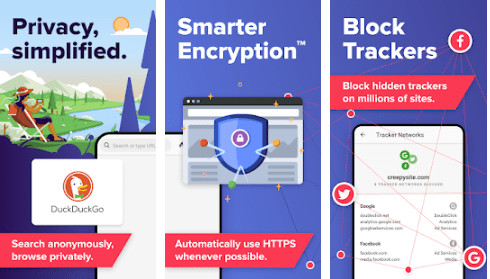 DuckDuckGo is the next app on our list of the best Privacy Apps for Android Phones. Major browsing engines such as Google and Bing often monitor your online actions and share them with third-party businesses. They may sometimes set virtual cookies in your search engine to track your search and browsing behavior. This is where privacy apps like DuckDuckGo step in, acting as a drop-in substitute for our favorite search engines and browsers. It ensures that no data is monitored and no information is leaked to third-party organizations. This beautiful security app lets you search discreetly and enhance your encryption protection. DuckDuckGo provides an ad-free experience and hides your search location from unwanted access.
4. SmartApplock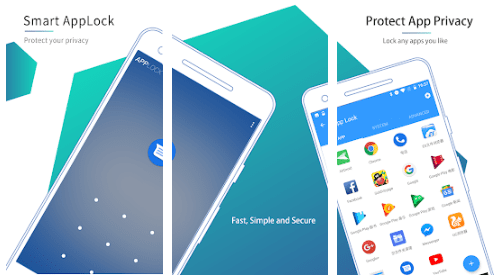 Many of us have gotten into the habit of locking our smartphone displays with a password and face ID, but we often need to remember to lock the apps and folders stored on them. If someone passes the screen lock, they may easily enjoy a sneak look at your device. SmartApplock is designed to meet this need. You may lock certain apps on your Android device with this useful and easy-to-use tool. It employs strong passwords to disable social media accounts and safeguard sensitive personal data.
5. Orbot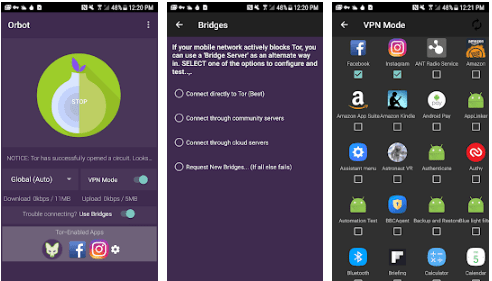 Orbot, often known as the Tor Project, is a program Guardian Projects created that helps you access the internet more securely. Users may use Orbot to connect to the Tor network effortlessly and enjoy secure browsing without worrying about their location being recorded. It intelligently encrypts and passes your location across various networks to protect you from eavesdropping and spying. However, since there is so much activity, you may have poor connection speeds sometimes, but overall, it is a nice trade-off.
6. Free OTP Authenticator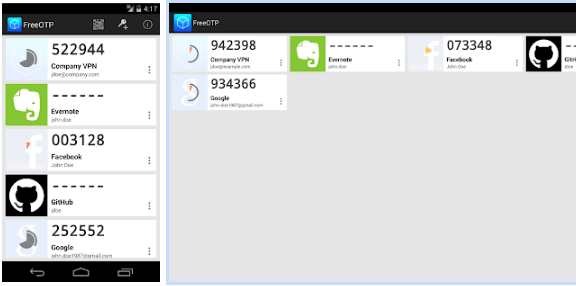 A wise strategy to safeguard your accounts is to use 2FA. Various websites and social media accounts use it and add a second type of identifying information to your main password. Such apps produce a one-time code and transmit it to the registered cellphone number, which means no one may access your account until both pieces of information are provided. One such app that guarantees secure login is Free OTP Authenticator. It's an open-source code generating tool that almost eliminates account hacking. The most appealing aspect of Free OTP Authenticator is that it does not snoop on you as Google does.
7. Firefox Addons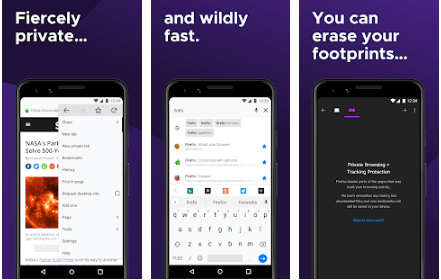 The Firefox browser for Android devices provides a secure and quick browsing experience. It safeguards your browsing sessions and hence protects you from hackers. To enhance the security & speed of browsing on Android devices, you may choose from various add-ons. To install add-ons, open the menu option on your Firefox browser. After that, click on the "Tool" button. Then, open the "Add-ons" menu and choose the add-ons you wish to include in your preferred browser. The improved security safeguards your personal information and stops unwanted advertisements and cookies. It also has a private browsing mode that allows for the automated erasure of browsing history. Some of the most popular Firefox Add-ons include ad blockers and password managers.
8. ProtonMail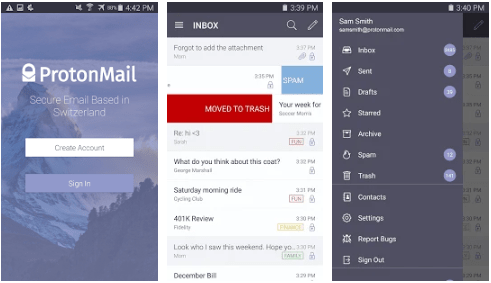 Frequent email exchange leaves you very exposed to cybercrime. Within your Gmail account, Google uses a monitoring algorithm to offer you different marketing messages, product suggestions, and targeted adverts. ProtonMail is a well-known encrypted email service that may be an excellent substitute for major email services. End-to-end encryption ensures that your email remains private and secure. It encrypts your emails automatically and guarantees zero access.
9. Abit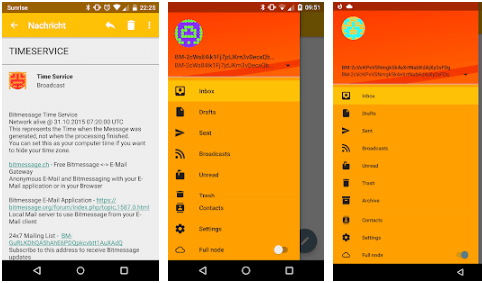 Hackers and data miners always search for relevant information that might produce income. They will find a way into your system and dig up information on you, no matter how powerful your encryption services are. Abit helps you overcome this problem. Also, it works on a Bitmessage protocol mechanism, which implies end-to-end security for all communications. It provides an excellent technique to hide your identity from prying eyes and hackers.
10. Hushed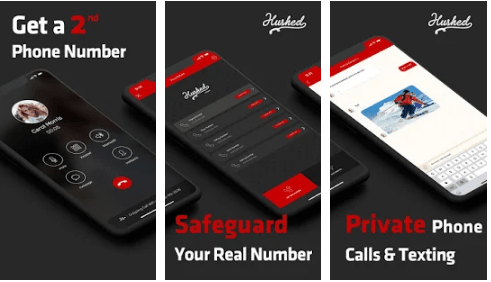 Unwanted phone calls may irritate everyone. We often share our contact information across several websites, which provide a suitable platform for advertising agencies and sales representatives. Hide your original contact information by using Hushed to get a temporary phone number. The forged number may be used to complete online forms and surveys. This useful app allows you to hide your caller ID with a temporary phone number, send anonymous messages, conduct private calls, and manage numerous phone lines. It may also be used for online dating and buying and selling on local classifieds. Hushed offers flexible prepaid plans so that you may pay for short-term and long-term needs.
11. Kyms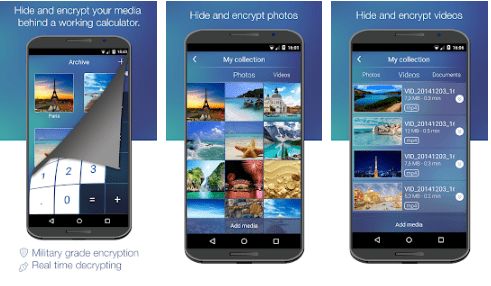 There is no better option than Kyms for keeping your material protected. It masquerades as a calculator and may be found on your desktop as "KyCalc." It conceals your photographs and movies in an encrypted vault that can only be accessed with a password or PIN. Also, it works as a media transfer utility engine, and you may instantly store all your downloaded media files in the vault using its built-in web browser. This Best Android Privacy App provides an extra degree of concealed security.
12. LastPass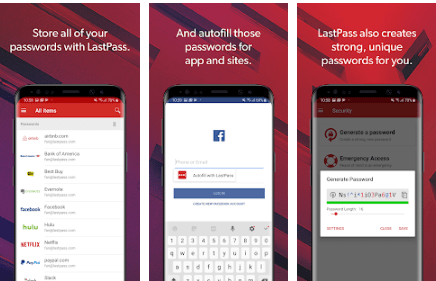 Using the same passwords and login information exposes you to criminality and data breaches. It is usually best to use various and distinct passcodes for each account. A secure password adds to your security and safety, and LastPass accomplishes just that. It helps you establish strong passwords to secure your important data and information swiftly. The privacy app for Android devices also enables you to automatically change passwords at frequent intervals. LastPass provides an easy and fast solution to secure your accounts.
Also, Take A Look At:
Conclusion:
So there you have it: some of the best privacy apps for Android devices. To add a layer of security to your device, pick the one that best meets your requirements. However, adhering to a secure security policy is always suggested to prevent being caught in undesirable scenarios. Maintain your data privacy and online security by using a reliable VPN connection and being watchful.