Yoga is the best approach to keep mental and physical illnesses at bay. Yoga may help you improve your mind, attain tranquility, and remain active. With the advancement of technology, stretching and breathing exercises have become quite easy. Several best free yoga apps on the market provide voice and visual assistance. We've compiled a well-researched list of the best yoga apps for Android & iOS devices to help you make the correct decision. Each app was decided based on user reviews, features, overall rating, usability, and usefulness. These fantastic yoga apps allow you to breathe, exercise, and stretch. Choose them as your health companion and start your fitness journey now.
Top Free Yoga Apps For Android And iOS
Free Yoga Apps For Android And iOS are.
1. Find What Feels Good: Yoga With Adriene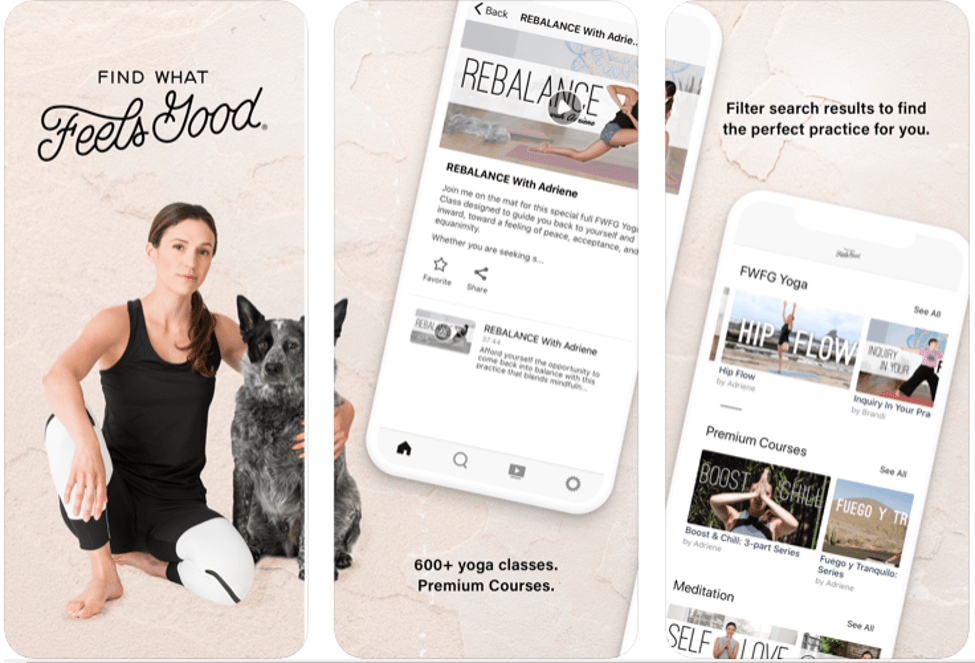 Adriene Mishler's wonderful yoga app can help you find peace and happiness. It is among the most popular apps for Yoga lifestyle tools, and it contains an online library with over 100 yoga poses. Also, it enjoys 4.9 user reviews. It allows you to view videos in various categories, like Parental Yoga, Boost & Chill, Empower, and many more.
2. Yoga For Beginners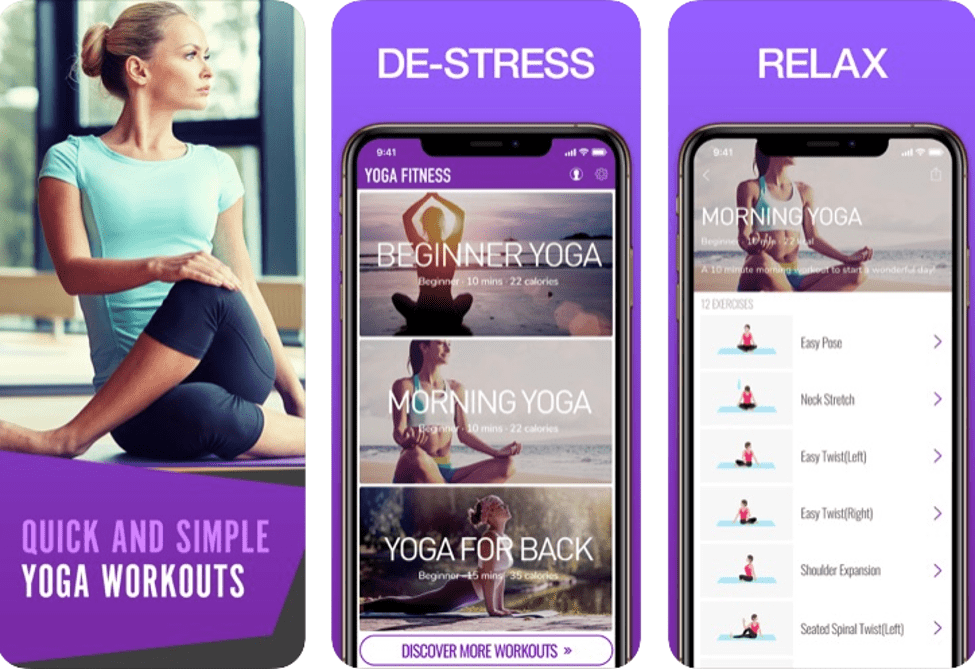 Are you brand new to yoga? With this fantastic app, you may delve into ancient fitness art. It has a simple and user-friendly interface focusing more on beginners and is only suitable for those who wish to learn the fundamental yoga asanas and poses. It includes many instructional videos that provide step-by-step instructions for each posture. With 22.7 thousand reviews, it enjoys an average user rating of 4.8. Use this best fitness app to include yoga into your everyday routine to improve your mental and physical wellness.
3. Simply Yoga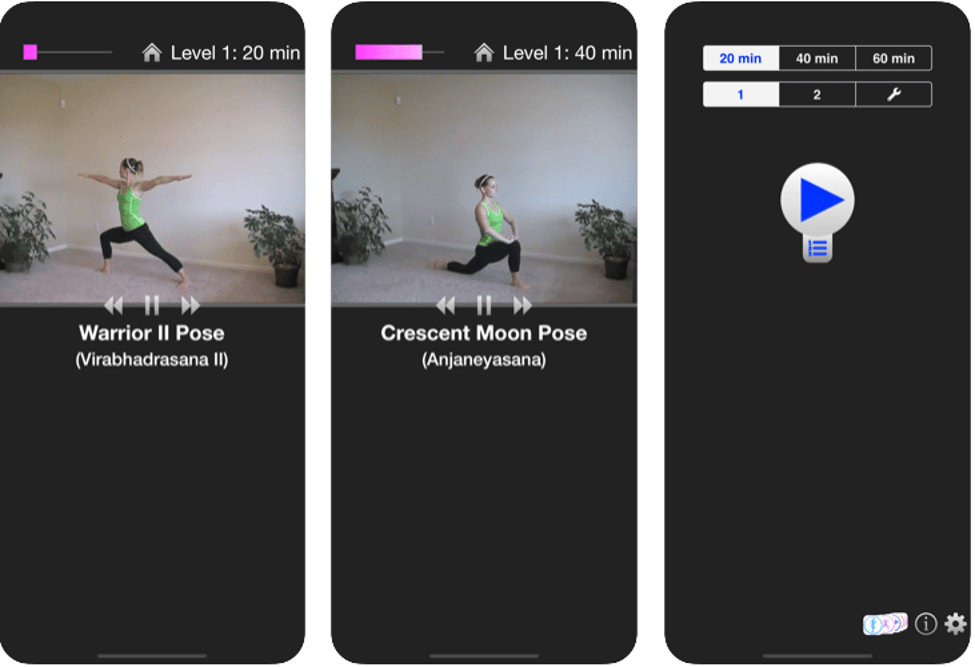 Are you new to yoga? Use this strong and best fitness app to practice and follow yoga. The app has simple features and an easy-to-use user interface. Around 30 distinct yoga poses might assist beginners such as yourself. It also includes lesson videos of 20, 40, and 60 minutes in length with step-by-step directions for easy learning. Its audio-supporting function, which has built-in coach power, also provides valuable recommendations on breathing and posture, allowing you to avoid making errors. Simply Yoga deserves a permanent spot on our list of the best freeware yoga apps for Android and iOS phones because of all the above features.
4. Daily Yoga 
With Daily Yoga, you may access a large library of 500+ yoga poses and numerous courses. Daily Yoga might be a wonderful pick if you wish to learn yoga but are too busy to attend a class. Various free poses, exercises, and yoga routines are available in the app. It also gives appropriately guided meditation sessions and health data monitoring features. With this simple and basic fitness app, you can reduce tension, improve flexibility, tone muscles, and enhance strength. You may purchase a membership if you want to learn advanced yoga poses.
5. Yoga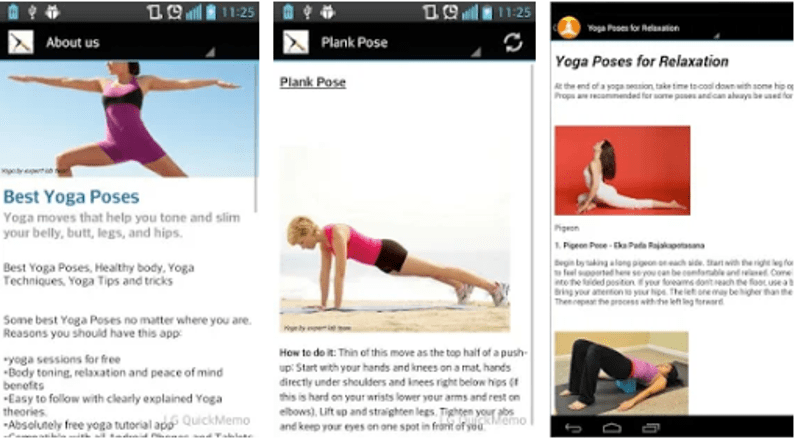 This app is next on our list of the best yoga apps. It is an excellent approach to protect your daily fitness and is appropriate for all user levels, including beginners, intermediate, and advanced. It is a free yoga instructional program with a simple and user-friendly UI. There are dozens of yoga poses, breathing advice, methods, tactics, and well-described videos and articles. Practicing yoga daily to attain the ideal balance between your lifestyle and fitness. Anti-stress, training, breathing exercise, yoga, relieving position, pranayama, ashtanga, and more categories are included in the app.
6. Yoga Everyday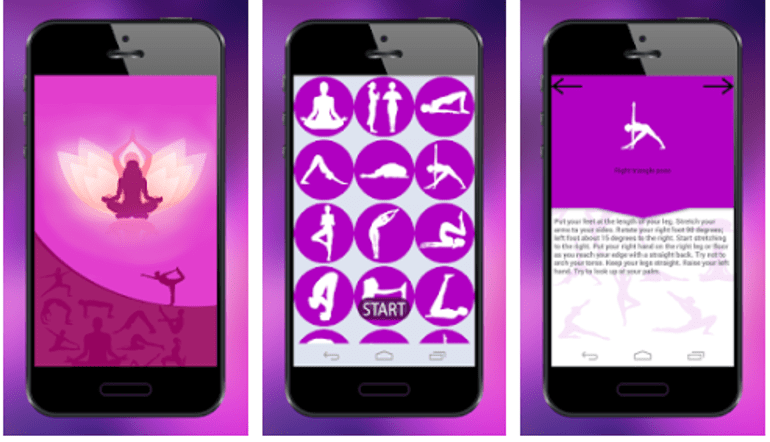 Regular practice leads to fitness, and yoga follows the same app. Practice yoga daily to learn and perfect the best yoga poses and exercises for you. The app contains video guidance, step-by-step directions, and a full explanation of posture and breathing techniques. The graphic depiction also enhances its usability. It explains around 20+ exercises and the training plan and breaks down the time required. Use this effective fitness tool to mentally and physically tone your body.
7. 5 Minute Yoga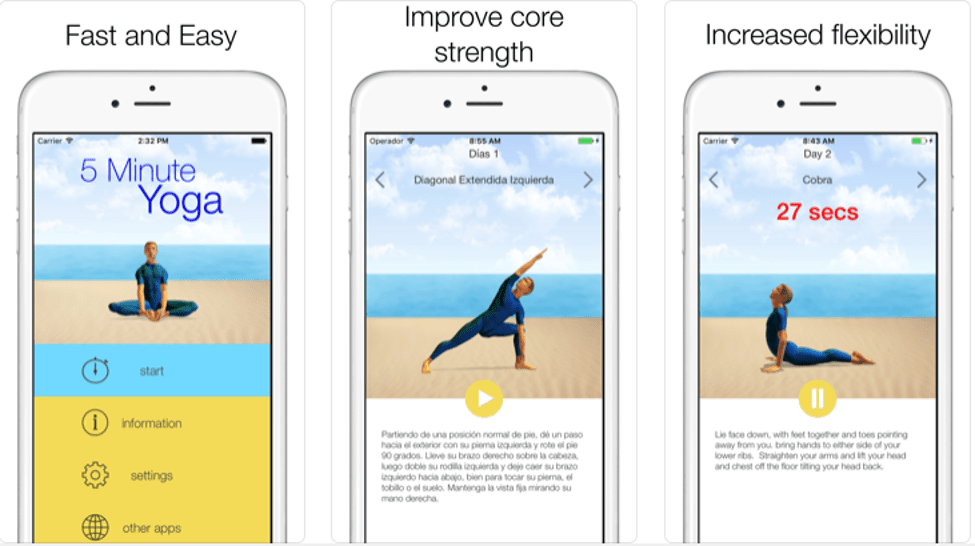 Well, Five minutes of yoga in your daily routine may make a huge difference in your overall health and well-being. Regularly practicing it can maintain your body in shape, improve your concentration, and make you healthier. The app is designed to cater to several user groups, beginning with beginners and progressing to expert users. It includes video lessons, advice on fundamental yoga poses, and more advanced and challenging ones. To experience a stress-free day, begin your day with this best yoga app for your iPhone.
8. Yoga Studio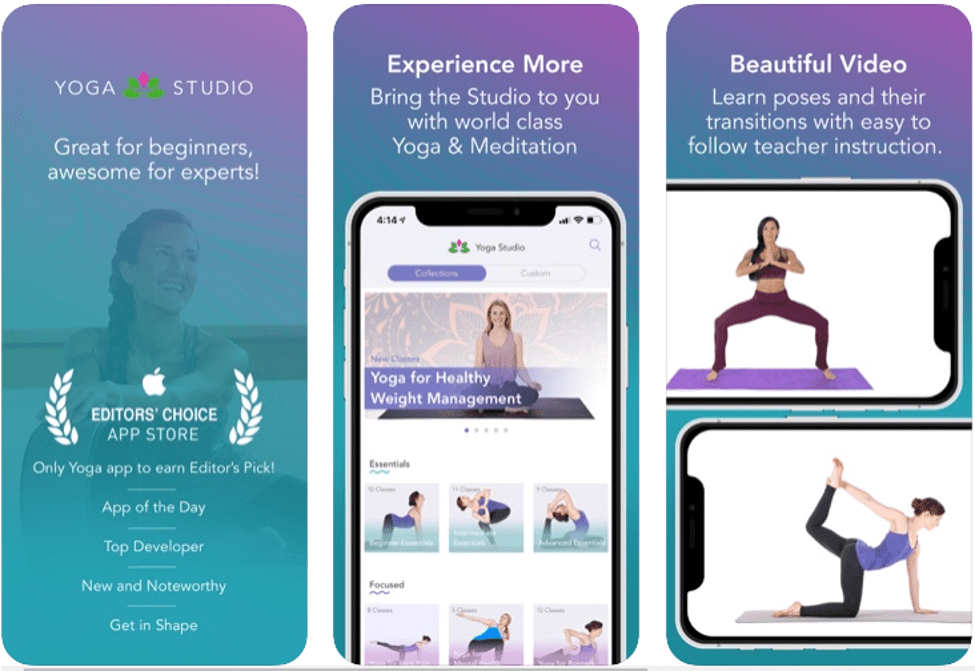 Yoga Studio, our next best yoga app for weight loss pick, allows you to access pre-made yoga lessons anytime. The app features over 100 HD yoga poses, fitness sessions, and meditation lessons. It includes basic videos for beginners, some tough poses, and a special experienced Yoga section for experienced viewers. Yoga Studio may help you achieve your fitness objectives by allowing you to practice regularly. Its base version is free, but if you want more features, you may pay for them in-app.
9. Down Dog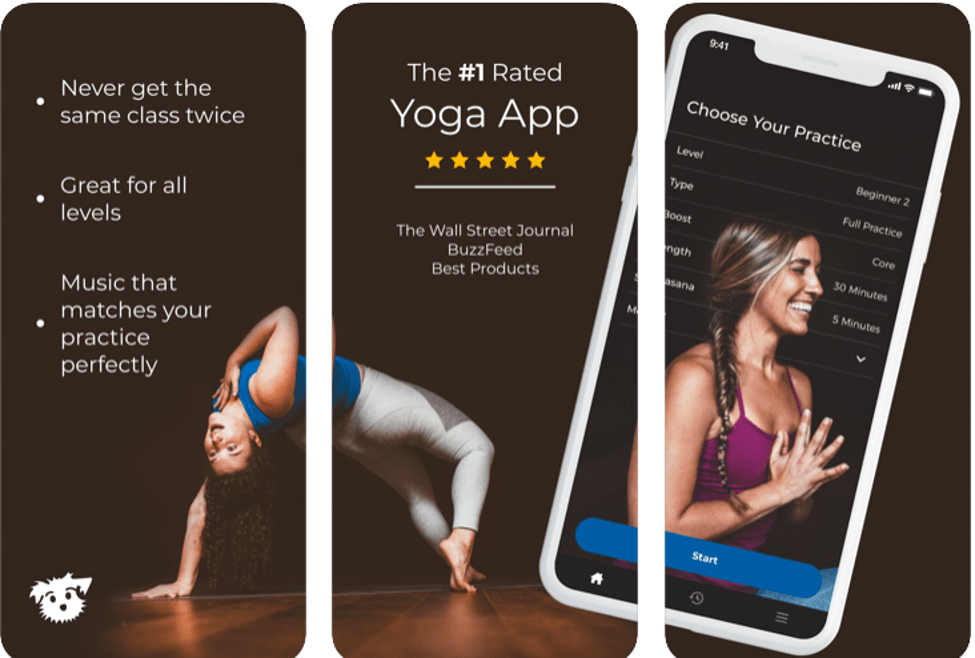 With this best yoga app, you can learn yoga from the convenience of your own home. The app includes videos that concentrate on various levels, timings, and genres to cater to a wide range of user demands. Apart from the extensive explanation and step-by-step advice on poses, it is an excellent app. It combines relaxing background music and spoken directions.
10. Track Yoga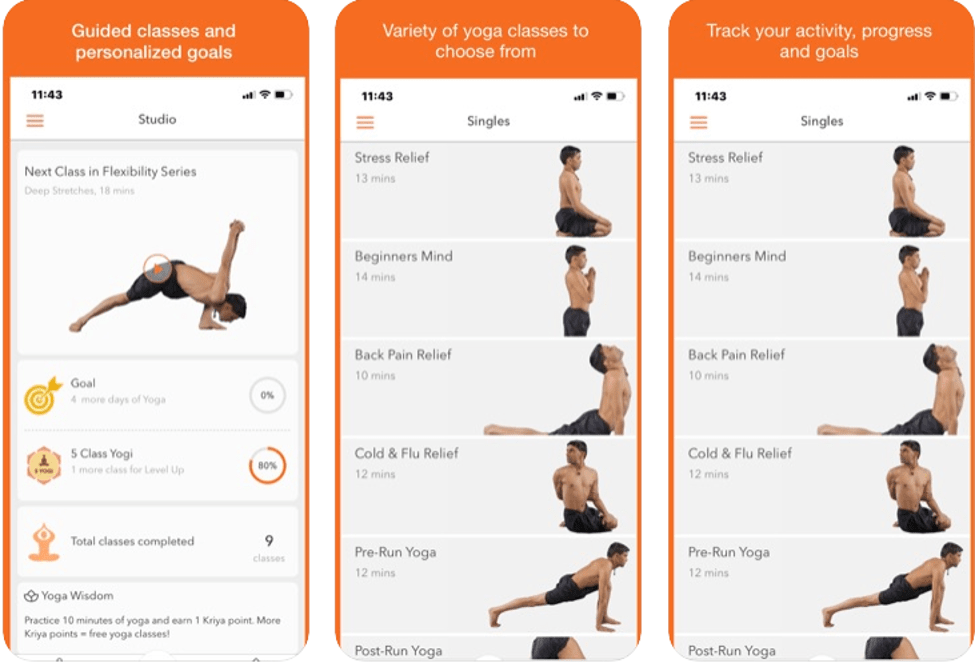 With this powerful tool, you can stay healthy and battle sadness. Use this best yoga app to attain mental and physical balance and rest your mind. The app enables you to create a routine and monitor its progress. It also enables you to design your unique training programs. The app features a variety of intriguing and helpful areas, such as Yoga Workout, Yoga for Depression, Full Body Fitness, and many more. Aside from extensive lessons and explanations, you may also contact a yoga instructor to understand poses and breathing procedures better.
11. Yoga- Poses and Classes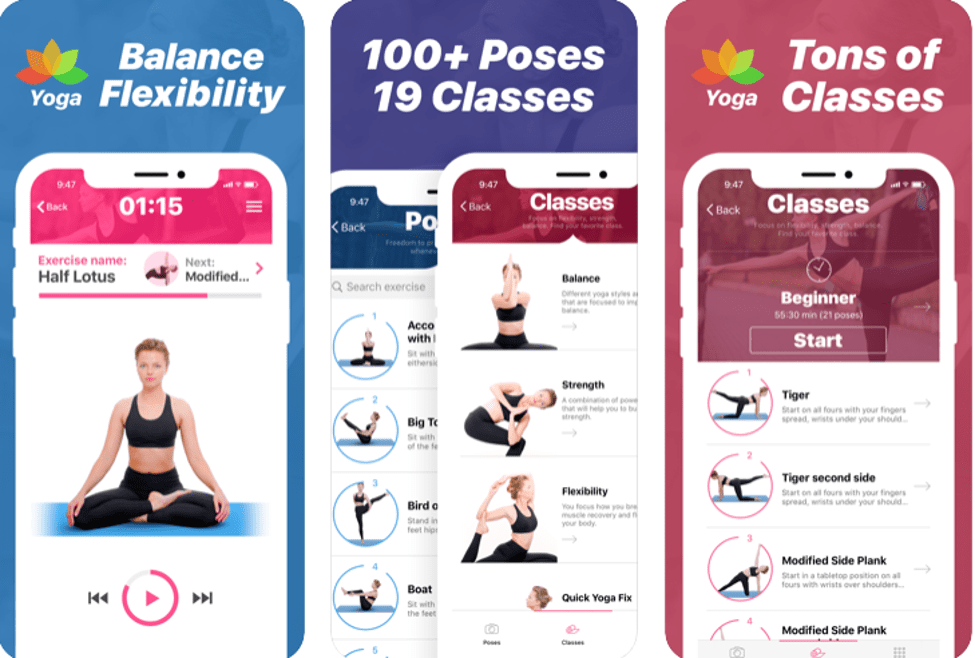 This easy-to-use app, which features over 100 poses and asanas, is next on our list of the best fitness apps for beginners. Several downloadable videos and instructional sessions are available to help you learn yoga. Download it to attain more strength, flexibility, and balance in life.
Also, Take A Look At:
Conclusion:
So that's all. The yoga mentioned above apps are distinctive, but each focuses on helping individuals keep fit and healthy. These best yoga apps for the body and mind are ideal for maintaining physical and mental health. Aside from that, they provide a simple approach to learning and practicing meditation and yoga classes. Choose the best app for you now and start practicing yoga to live a more balanced and regulated life.